Department of Empowerment of Persons with Disabilities (DEPwD), under the able-guidance of Shri Rajesh Agarwal Secretary, has initiated a series of reforms for implementation of the provisions of "Rights of Persons with Disabilities Act 2016" and empowerment of Persons with Disabilities. In the series of such initiatives, a meeting was held today under the Chairpersonship of Shri Rajesh Aggarwal with resident commissioners and all States/UTs and their representatives.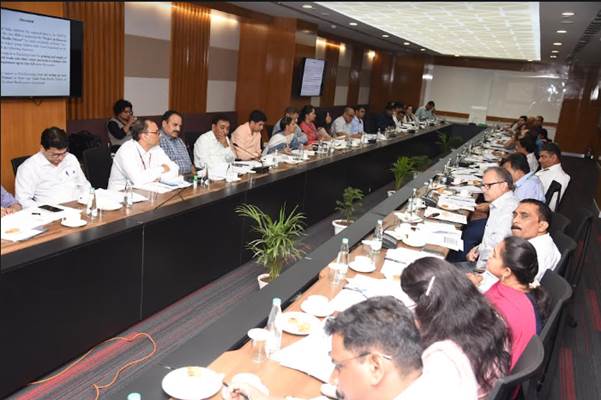 The meeting commenced with the welcome address by Secretary DEPwD in which he highlighted various programmes/schemes being run by the Department towards empowerment of persons with disabilities and protection of their rights equally with others. Apart from that, importance of barrier free environment for PwDS including ICT, built in infrastructure and transportation system, early intervention and early diagnosis centres including counseling of parents, reservation in higher educational institutions and Government Jobs, Skill development/vocational training, availability of all educational and awareness generation materials in all vernacular languages, and promoting Braille Press etc. has been stressed upon.
Shri Rajeev Sharma, Joint Secretary DEPwD while highlighting the Schemes related to DDRS, AIC, CDEIC, stressed upon active participation of States/UTs to make these Schemes successful at the ground level.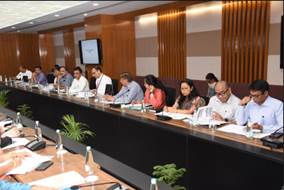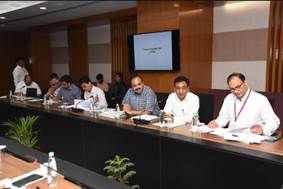 Shri Kishore B. Surwade, Dy. Director General has focused on Skill Training of persons with disabilities through a Government of India flagship programme on "National Action Plan on Skilling". In this endeavor, the Department has recently organized a National Level programme on Stakeholder Consultation at NISD, Dwarka, New Delhi
Ms. Meena Kumari Sharma, Dy. Secretary explained in brief about the role of Braille Press and financial assistance being given to States/UTs under Braille Press Scheme and requested State Govt representatives to send their proposals through nodal agency i.e, NIEPVD for publication of Braille books and other educational materials for visually impaired PwDs.
Shri Amit Srivastava, US, DEPwD informed the participants about the new component of National Fund under which States and UTs can apply for financial support for organizing events like Purple Fest held at Goa in Jan-2023. It was also informed that the Department with NIEPVD Dehradun is broadcasting radio interviews to disseminate information about various Schemes of the Department. States were requested to convert these interviews in vernacular languages and further promote through various social media platforms.
Ms. Sejal Pawar apprised regarding the ongoing Supreme Court Cases like Seema Girija Vs UoI & Others for implementation of Rights of Persons with Disabilities Act 2016 by States/ UTs of and Gaurav Kumar Bansal vs UoI & Others. Supreme Court of India has directed to create online dashboard in which all States /UTs will upload status report on compliance of the provisions of RPwD Act 2016 on real time basis.
Wherein all the States /UTs are a party and the directions of the Supreme Court that has to be followed by the States /UTs regarding implementation of the provisions of RPwD Act 2016. She also brought to the notice of the dashboard "ManoAshraya" that has been developed by the Department to capture the details w.r.t Mental Health Institutions, Rehabilitation Homes/Halfway Homes in the Country and the duties of the States to upload real time information on the said dashboard.
Then the forum was open for the suggestions and discussions of the State Resident Commissioners /representatives. The participants raised queries relating to the Schemes of the Department which were clarified. Participants also suggested various interventions related to UDID, National Fund and other Schemes in following manner:-
For overall empowerment of persons with disabilities, a holistic approach is required. Reservation in educational institution will not be enough, there shall be private sector initiative in vocational training, skill building etc.
Role of Private sector may be promoted and highlighted.
To create visibility of the programme meant for persons with disabilities, the Department needs to look for a brand ambassador.
For successful implementation of all programmes, creation of disability specific data base is required.
Use of Artificial Intelligence
Incentive for grassroot worker, ASHA Worker, Aanganwadi worker to identify the beneficiaries.
This meeting was a unique initiative as Resident Commissioners have been engaged in a dialogue with the Department for the first time which is likely to have significant impact on the implementation of Central Govt. initiatives across the Country.