Union Minister for Civil Aviation and Steel Shri. Jyotiraditya Scindia said that Central Government stands firm on its commitment to the material recycling industry, a sector that needs to be encouraged and pushed forward in today's world. Today the recycling industry contributes almost 10,000 crores to India's GST and in the years to come it is expected to go up by 35,000 crore. The Union Minister was speaking at the plenary session of the 10th edition of the International Indian Material Recycling Conference organized by the Material Recycling Association of India (MRAI) in Kochi. "We are responsible as stakeholders for the generation that is yet to come, thus the material recycling sector is important," he said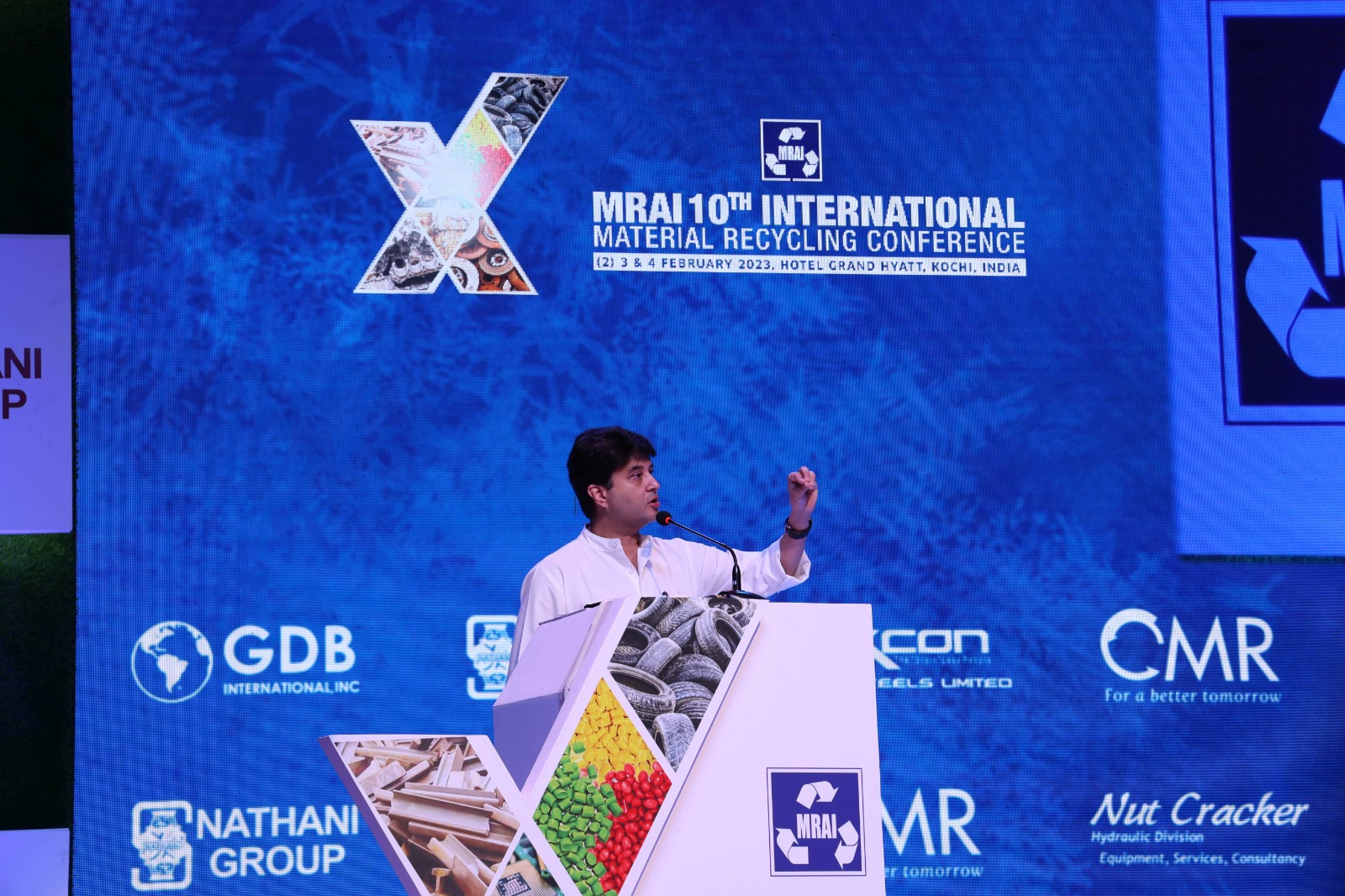 Adding that India's journey to the Amritkal will be visionary, the Minister assured full commitment to the circular economy and recycling sector of India and increase per capita consumption of Steel. He pointed out that 22% of our steel is produced through recycling, but we need to include the informal sector for the development of the sector as well and said, "For our commitment to Net Zero by 2070, we can look at short term goals by using energy efficiency tools by 20% by 2030."

Stressing that the steel industry is the sub-segment of the recycling sector, it must be at the forefront of adaptation and mitigation by joining hands with the principle of 6 Rs which include Reduce, Recycle, Reuse, Recover, Redesign and Remanufacturing. The Minister envisioned that these principles of the six R's must become the embodiment of every good corporate governance structure.

The Minister said that India under the leadership of Prime Minister Shri Narendra Modi has shown the world that it has the capability to be a visionary in its outlook, to lead where no other country had led before . Adding that there are plenty of examples including how we handled Covid, the International Solar Alliance, the Minister said there are many firsts in India's name. "On those lines, we are aiming for another leader in the sector of the circular economy including recycling ."

Shri Scindia said steel is ideally best suited for the area of circular economy and the government is fully committed to the circular economy and recycling sector not only in India but across the world. The steel sector produces many forms of waste and the use of the waste across the world must be shown in multiple industries, he said. "We are working fervently on that goal," he added.
Referring to the vision of the Prime Minister for recycling and a circular economy, Shri Scindia recalled the Prime Minister's speech on Independence Day in 2021 that "men and nature can no longer be in a conflictual relationship. They must co-exist together in a harmonious relationship." Shri Scindia added that the circular economy is the bedrock of this very fundamental thought put forward by the Prime Minister.

Emphasizing the growth registered in the sector, Shri Jyotiraditya Scindia said in the last 8 years India has produced 25 million tonnes of scraps and bought 5 million tonnes. The production of steel was increased by almost 50 % from 80 million per annum to 120 million tonnes per annum. "22 % of our steel is produced through recycling. We must ensure that we should bring the informal sector to the formal sector as an amalgamation of that will give a new thrust to the recycling and circular economy sector, "he added.

'Scrap' is a virtuous word that denotes a green economy to sustain Mother Earth in the years to come. It is our commitment that by 2030 we should reduce CO2 emissions by 50% and being able to do that scrap is an extremely important source. The use of scrap not only saves energy and emissions but also saves the consumption of tonnes of iron ore, cooking coal, and limestone. With the Vision of 2047, today's 15% of scrap usage will increase to almost 25% in the next 5 years, which means the percentage of scrap for the production of steel should go up to 50%, with only 50% being dependent on iron ore, he added.

Material Recycling Association of India (MRAI) hosted the 10th edition of the International Indian Material Recycling Conference from 2 – 4 February 2023 in Kochi. This biggest-ever meet of global recyclers saw more than 1800 Delegates, including 450 Foreign Delegates from 38 countries. The conclave created focussed on highlighting a deeper insight into maximizing the rate of recycling, protecting natural resources, minimizing environmental pollution, creating more employment opportunities, and helping achieve the sustainable development goal of India's commitment to carbon neutrality by 2070.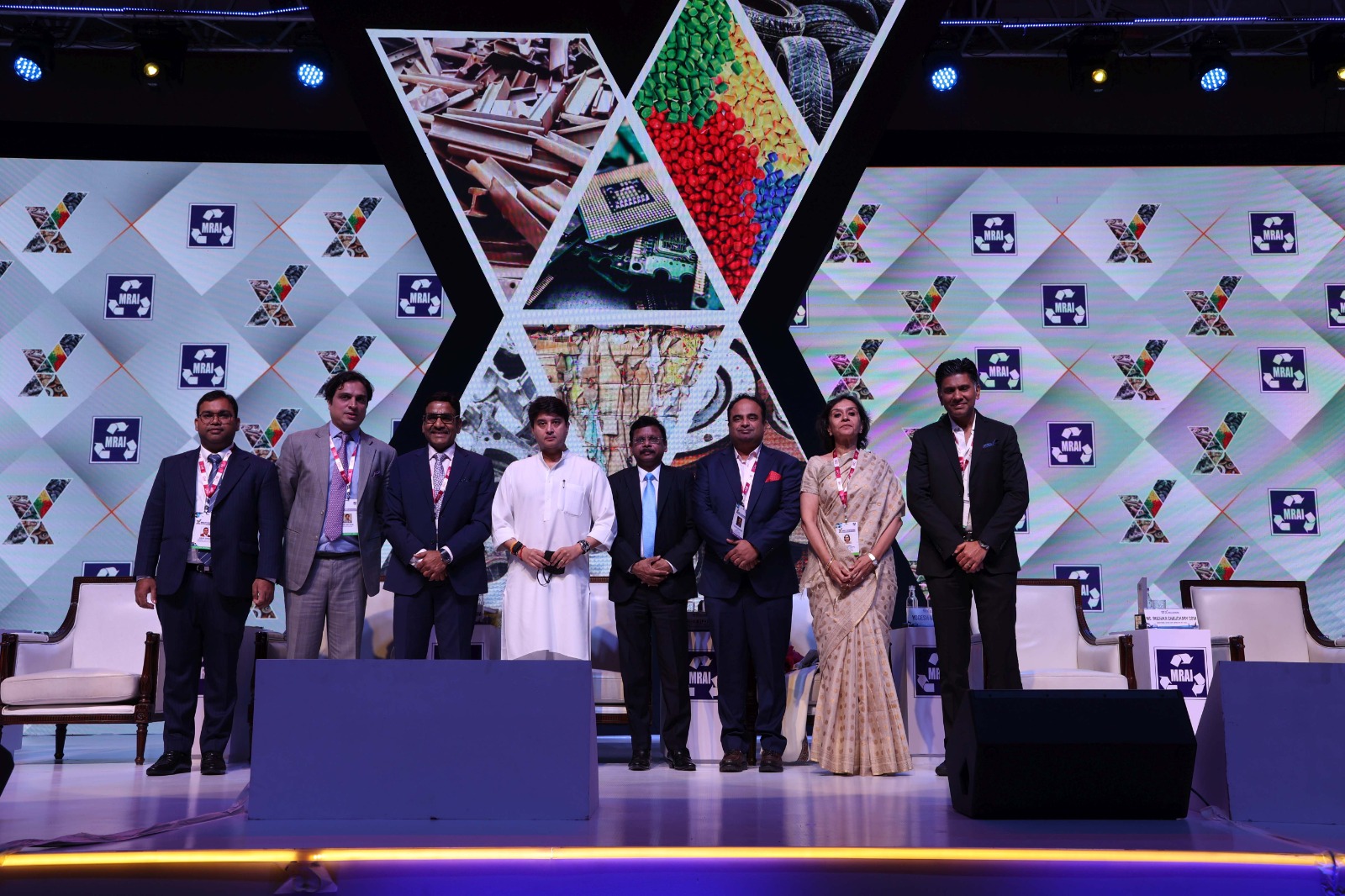 The event was also graced by Smt Ruchika Chaudhary Govil, Additional Secretary Ministry of Steel, and Dr.Harshadeep Kamble , Principal Secretary , Industry & Mines, Maharashtra State Government along with several other dignitaries.
The 3- day event saw multiple Panel Discussions like Plastic Recycling EPR Policy & BIS Standards, Policy Framework & Technological Advancement in Tyre Recycling etc.

The conference was attended by eminent international industry leaders, Govt. of India Officials from Ministry of Steel, Ministry of Mines, Ministry of Environment, Forest & Climate Change, Ministry of Commerce & Industry, NITI AAYOG, Ministry of Electronics, Information & Technology, Ministry of Shipping, Bureau of Indian Standards and more.