The Chief Minister of Maharashtra Shri Eknath Shinde inaugurated the two-day Regional Conference on "E-Governance" in Mumbai today. This conference has been jointly organized by the Department of Administrative Reforms and Public Grievances (DARPG) in collaboration with the Government of Maharashtra from January 23 to 24, 2023 in Mumbai. The conference is hybrid mode has been attended by 500 delegates from 30 participating States and UTs today.
Maharashtra CM Shri Shinde said that e-Governance is being widely implemented in the country under the leadership of Prime Minister Narendra Modi and the two-day conference being held by the Centre and State Governments is a welcome initiative to update the administrative system and exchange innovative ideas. Through this conference, information about the activities taking place under e-governance across the country will be made available to all states and UTs. Stating that the mantra 'Maximum Governance, Minimum Government' has been coined by the Prime Minister, the CM said that e-Governance is being widely implemented across the country and good governance will be provided to citizens through e-governance. The country is getting significant participation at the global level under the leadership of the Prime Minister, he added.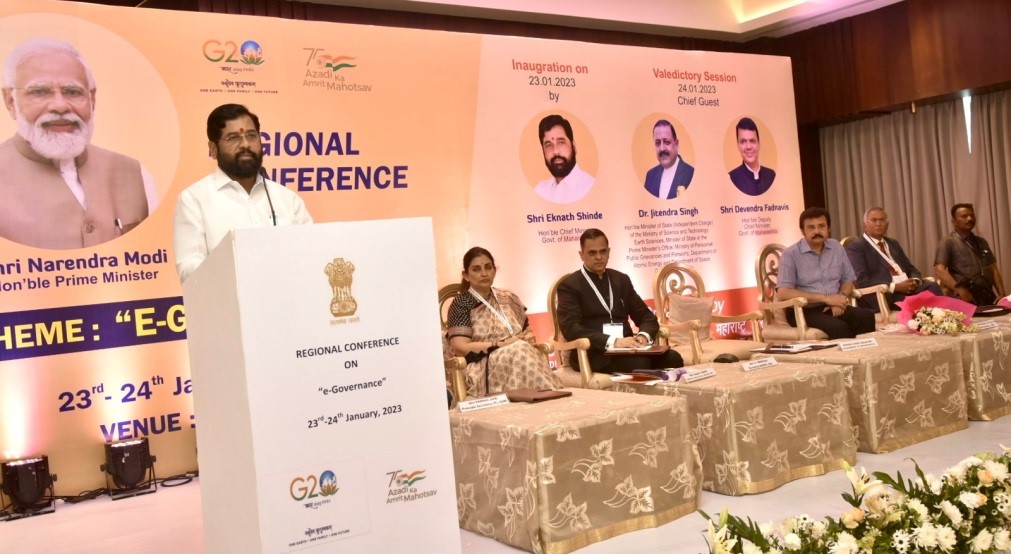 DARPG Secretary Shri V. Srinivas, in his introductory address, stated that the two-day regional conference has resulted from a multi-pronged action plan formulated by DARPG and the Government of Maharashtra for implementing next generation administrative reforms in the state of Maharashtra so that the best practices can be presented by the award winners, academicians and industry captains to enable widespread dissemination and adoption. "One of the objectives of this regional conference is to translate the Government of Maharashtra's core strengths in governance into e-governance to enable the digital transformation of institutions and digital environment of citizens". He said that Maharashtra is amongst the most advanced states of India with a strong governance model, having a strong secretariat structure and districts where officers have stood for innovation and commitment. He stated that Good Governance Index of India recognizes Maharashtra's strong performance in several sectors, like agriculture, commerce and industry, public infrastructure, social welfare and development, judiciary and public safety. Maharashtra stands well ahead of the Indian states in terms of the 58 parameters across ten sectors, he further stated.
Speaking about adoption of e-office version 7.0, he said that it is an initiative for increasing efficiency in decision- making through de-layering, delegation and digitization of the state secretariat, updating of the manual of office procedures to enable the creation of a digital secretariat, documentation of best practices and administrative innovations and formulation of a district level good governance index.
DARPG Secretary further stated that the important national objectives of this conference are effective implementation of the National e-Governance Service Delivery Assessment (NeSDA)'s recommendations to create a movement for saturation of e-services across India, to enable the creation of digital institutions, particularly state secretariats to adopt e-office, strengthen the linkages between academics, start-ups and government service portals to enable seamless transformations for digitally empowering citizens.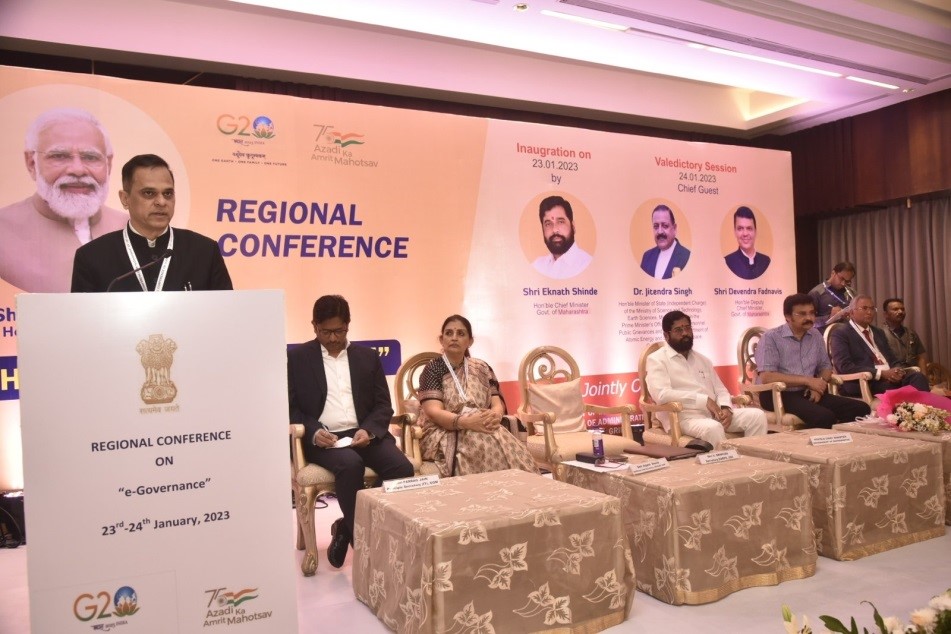 Maharashtra's Chief Secretary Shri Manukumar Srivastava, Additional Secretary of DARPG Shri Amar Nath, Additional Chief Secretary of General Administration Department in the Government of Maharashtra Smt. Sujata Saunik, Principal Secretary in Information Technology Department of Maharashtra Government Shri Parag Jain were also present in today's inaugural session.
During the inaugural session, the following were also showcased:-
(i) A brief presentation on Manual of Office Procedure of Government of Maharashtra
(ii) A film on Year End Review of DARPG; and
Further, an e-journal MGMG on e-Governance initiatives was ceremonially released.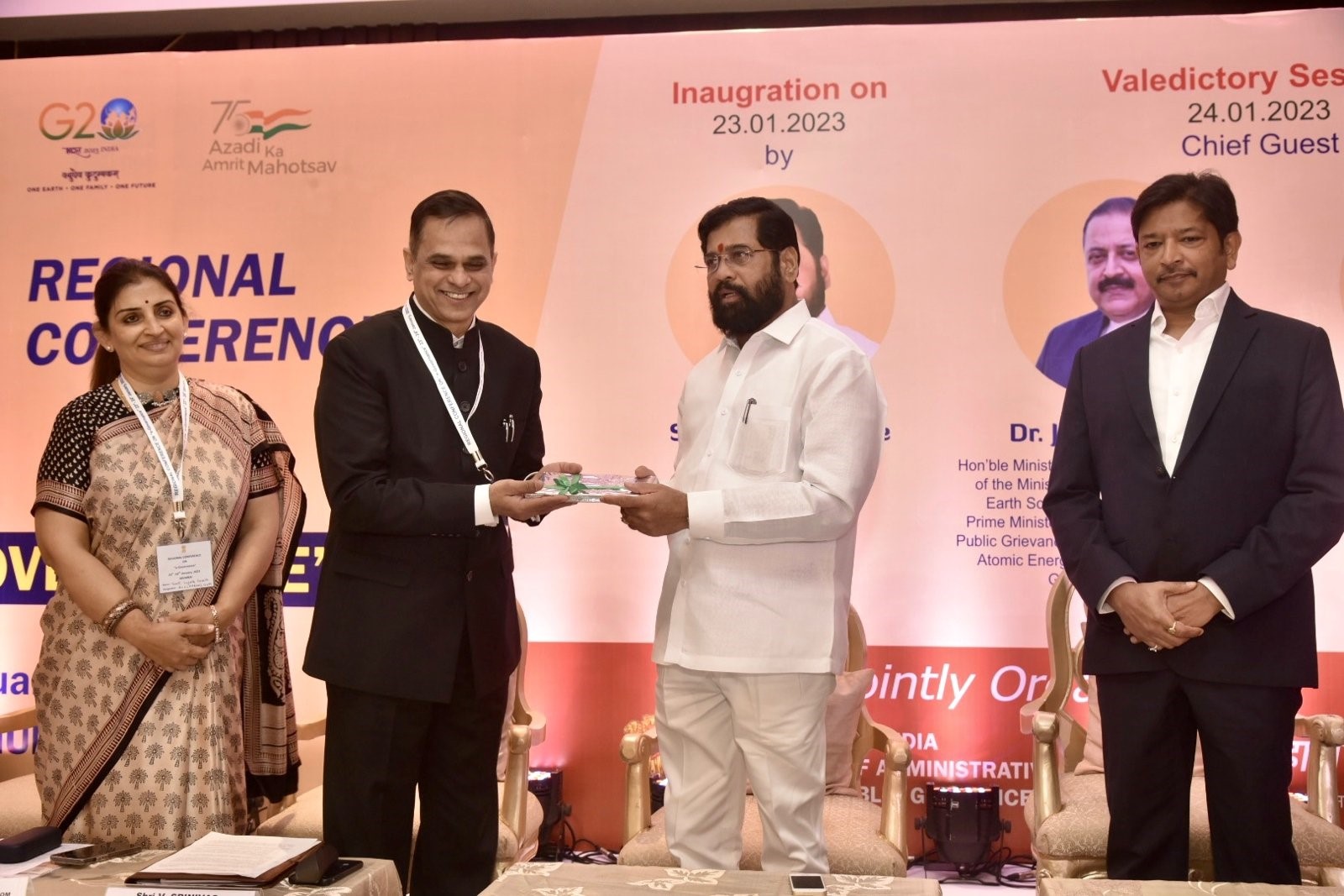 During the valedictory session, Dr. Jitendra Singh, MoS (PP) along with Shri Devendra Fadnavis, Deputy Chief Minister, Maharashtra will address the gathering tomorrow.
This Conference is an effort to create a common platform to share experiences in the formulation and implementation of best practices in administrative training, capacity building to facilitate citizen centric governance, improved public service delivery through e-Governance, transparent, accountable and citizen-friendly effective administration.