n order to publicize the program of International Day of Yoga at national and international level on the occasion of Azadi ka Amrit Mahotsav, Countdown Events to Yoga Day, 2022 was organized by the Government of India on June 17, 2022 at Vivekanand Rock, Kanyakumari, Tamil Nadu in the heritage city of Kanyakumari. The program was jointly organized by the Ministry of Fisheries, Animal Husbandry and Dairying, Government of India and in t collaboration with Animal Husbandry, Dairying, Fisheries welfare department, Government of Tamil Nadu. In the program, more than 500 Dairy Farmers, Students and fisherman livestock farmers participated in the yoga practice program. The program was held at Vivekanada Kendra in the back drop of Vivekananda rock and the confluence of three seas, which is southern most tip of the Indian sub-continent.
While launching the program, Chief Guest of the program Shri Dr. L. Murugan, Hon'ble Minister of State for Fisheries, Animal Husbandry and Dairying, Government of India, has told about the usefulness of Yoga in the daily life and the way Yoga reduces the stress and improves the health of the individual. Dr.L.Murugan emphasized the need practice yoga minimum one hour a day to reap the benefits of yoga. Further, he had interaction with progressive dairy farmers and fishermen from kanyakumari district.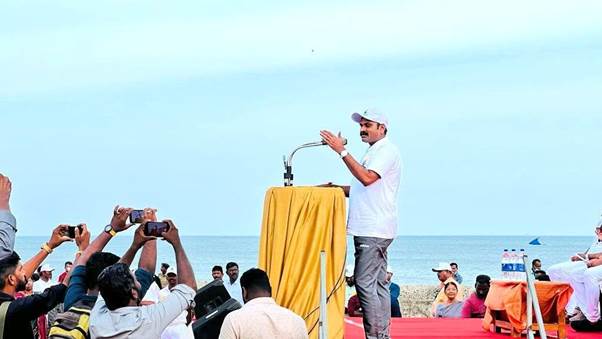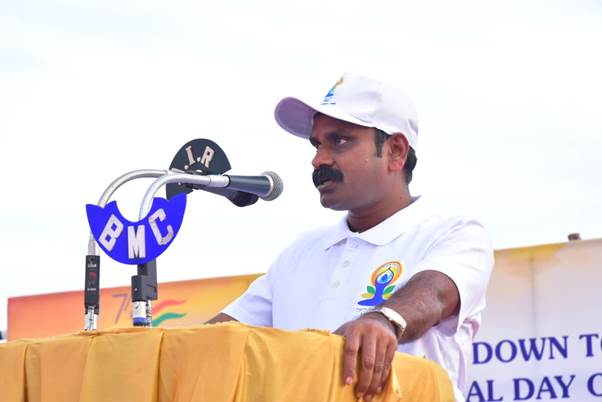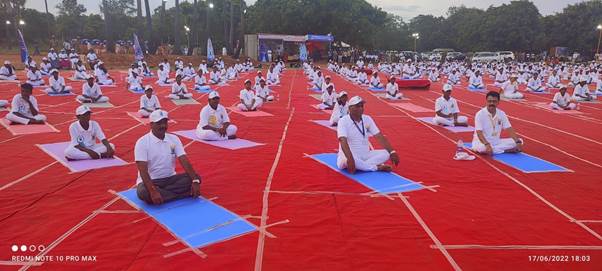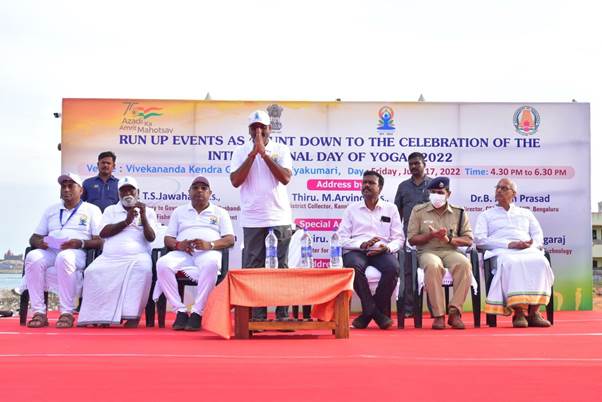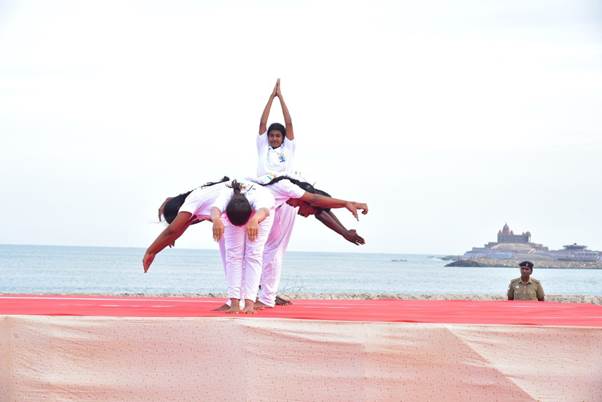 Shri. Jawahar I.A.S, Additional chief secretary to Government of Tamil Nadu, in his speech mentioned the importance of the International Yoga Day and the measures taken by the Government of India in collaboration with state governments to familiarize Yoga amongst the common man.
Shri Arvind I.A.S., District collector, Kanyakumari district in his special address explained the importance of Yoga and is the key to healthy living.
Dr.B.Arun Prasad, Director, CFSP&TI , Bangalore in his address explained the significance of the event and its coincidence with the "Azadi ka amirtotsav". Practicing yoga helps one to control his mind and thoughts apart from the physical exercise. This helps one to lead a life with better productivity. Dairy farmers should adopt yoga in their routine life for a healthy living.
The event was attended by Shri. M.R.Gandhi, MLA, Nagercoil Constituency, Shri. Hari kiran, Superintendent of Police and Officials from the Vivekanada Kendra.
The event was studded with cultural events viz., yoga dance, Classical dance and traditional dances of Tamil Nadu.
The cultural events were followed by the yoga practice in which more than 500 participants were present. Well trained yoga instructors conducted the yoga training session in which Honorable minister for State Shri. L.Murugan participated with enthusiasm and was accompanied by the officers from Central and State government Animal Husbandry department.
The program ended with vote of thanks rendered by Dr.Aniruddha Udaykar, Assistant commissioner, DAHD, Govt. of india.
Hon'ble minister visited the stall in which the traditional handicrafts were displayed. He also visited the stall where the dairy products of State milk federation were displayed.